The 5 Stages of Building a Digital-First, Customer-Centered Company
Here at Mesh Digital, LLC research and recent successful client engagements continue to reinforce that businesses' need greater elements of context, control and collaboration in all end-to-end interactions, and processes to improve the Customer/Patient Experiences (CX/PX).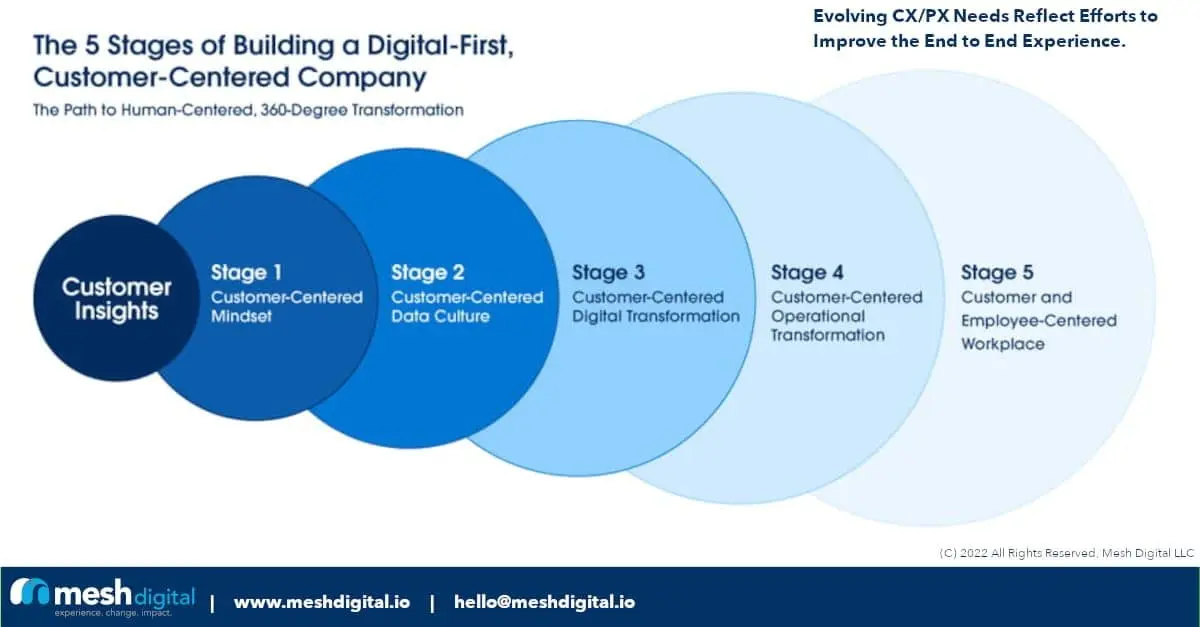 Here at Mesh Digital, LLC our research and recent successful client engagements continue to reinforce that businesses' need greater elements of context, control, and collaboration in all end-to-end interactions and processes to improve the Customer/Patient Experiences (CX/PX). Reducing complexity and friction is particularly important as organizations face pressure to adapt and modernize experiences (XPs) with an onslaught of new capabilities and technologies. Reducing complexity, along with adapting easier methods of collaboration and empowering business colleagues and partners with control and discretion over experiences, can address many key barriers. This has a dual benefit of improving retention, via lower friction methods of service and delivery, while improving the customer supporting employee experience – effectively addressing key friction points in both external and internal CX or PX.‌‌‌‌Mesh Digital, LLC isn't the only firm seeing this evolution of CX/PX.
For example, our friends over at S&P Global Market Intelligence recently published a global market intelligence survey detailing that improving customer service for retention (61%) takes the top spot as organizations' main business objective regarding CX in their Customer Experience & Commerce, Organizational Dynamics & Budgets 2022 survey. However, when looking at the top friction points faced about improving CX, difficulty around finding and retaining skilled workers (28%) has risen to the number two spot for the first time since the survey's inception, just behind keeping up with rising customer expectations (30%). This shows, that while overarching CX-driven business outcomes have remained unchanged, organizations increasingly need CX-driven strategies and resources to deliver and improve the complete, end-to-end experiences, with an aim to retain both the external and 'internal' customer (e.g., colleagues or employees).‌‌‌‌
Being a CX/PX focused Digital Market Leader also drives material top line returns. Our friends over at Boston Consulting Group (BCG) in a recent research study of ~2K global companies reported that "Digital Leaders bring 2x more solutions to scale" and drive 3x "higher returns from digital initiatives than Digital Laggards." ‌‌‌‌At Mesh Digital, LLC our approach to Digital-First‌‌ breaks down this digital journey into a few oversimplified steps, first, it's important to understand the needs and preferences of your customers or patients through market research and customer feedback. This means directly talking to customers / patients and not relying on attempting to gain insights about them by proxy sources. This information can be used to inform the development of digital products and services that meet the needs of your target markets and segments.
Next, it's important to implement a robust, yet pragmatic end-to-end digital strategy that prioritizes the customer experience. For true organizational transformation to customer-centricity, this strategy needs to weave across the firm following the entire customer jouney and lifecycle. This strategy can include creating a customer-friendly digital touchpoints (e.g., websites, mobile apps, APIs, etc.), as well as implementing a robust customer service platform (people, processes, and tools), and leveraging the power of digital marketing to reach and engage with customers, while nourishing relationships.
Not surprisingly, it's also important to invest in the right technology and tools to support a digital-first approach. This may include adopting cloud-based solutions, leveraging automation (e.g., AI, ML, RPA, NLP etc.), and investing in data analytics to gain insights into customer behavior. All while understanding that tools don't solve problems alone, but instead they're a tactic to solve for them.
Finally, it's important to foster a culture of innovation and experimentation to continuously improve the customer experience and stay ahead of maket demands, customer needs, and of course the competition. This can involve encouraging colleagues to think outside the box and try new approaches, as well as providing training and development opportunities to support continuous learning across the organization.
Overall, building a digital-first, customer-centered company requires a combination of understanding customer needs, implementing the right digital strategy, investing in technology, and fostering a culture of innovation.
Key Considerations & Risk Areas
While pivoting to a digital-first, customer-centered company if planned pragmatically and executed well can bring many benefits. However, there's some key, cross industry risk areas to be aware of and watch out for while developing your digital-first strategic plans:
Data security and privacy: as companies collect more data on customers / patients, it's important to ensure that this data is properly secured and protected from breaches while working closely with security and privacy officers, auditors, and regulators to ensure the apprriate risk profile for the firm.
Cybersecurity threats: with a greater reliance on digital systems and tools, companies also need to be aware of the potential for cyber attacks and implement measures to protect against them.
Digital skills gap: As companies shift to a digital-first approach, employees may require new skills and training to effectively use digital tools, new processes and technologies.
Customer engagement: As companies move more interactions online, it can be difficult to maintain the same level of personal engagement and connection with customers as in-person interactions. Recognizing that digital touchpoints are many times, now the primary interfaces with your customers / patients across the organization and that digital is no longer just a channel, but how business is performed across the enterprise.
Adapting to continual change: As the digital landscape is constantly evolving, it's important for companies to be able to adapt and change quickly to stay ahead of the competition. This means ensuring that there's ongoing capabilities to perform market and customer / patient analaysis, research and intelligence gathering, and ingrained methods of instrumenting the impact that changes, product, and service offerings make.
Channel integration: As companies move beyond the world of omni-channel and truly begin to break down the barriers between customer / patient touch-points they need to ensure a seamless integration of these digital touch-points across the customer / patient journey along with  physical operations, such as sales, inventory, delivery, and  servicing.
Transformation management: Effective change can't be left up to chance. It needs to be steered across the enterprise; ensuring that there's clear communication and alignment (escpecially across the Executive Committee), with visible support from that leadership effectively sponsoring the change. This needs to be combined with employee engagement and plans to ensure engagement gains traction, along with plans for resistence management to overcome the very natural human resistence to change. Continuous improvement with the change process should be, ironicaly, a continuous one and aligned with the company's overall corporate strategies, while having a robust governance and compliance structure in place to ensure that the organization's operations and decision-making processes comply with relevant laws, regulations, and industry standards. Lastly, but certainly not least, a process and systems in place to measure the performance of the new structures, ideologies, processes, technologies, capabilities, products, and services so that improvements can be made as necessary and scarce resources of time and capital investments can be focused on what drives the best outcomes.
Here at Mesh Digital, LLC we're fortunate to have helped global clients, across sectors define and realize the value of E2E Digital Strategies. From performing research, to developing Personas, Journeys, or Service Blueprints, to bootstrapping CX teams, we bring the power of real-world experience to bear on behalf of our clients. To unlock the potential of a modern business for your firm fueled by Digital Strategies and Tech, please feel free to reach out.